Nearpod is a website and app-based digital tool where teachers create slides based on learning resources for students. Behind this tool, the main purpose of learning for students and engaging with them. Nearpod is an interactive classroom engagement platform that empowers teachers to create engaging and interactive lessons for students. Nearpod allows teachers to create lessons or use existing lessons that are available in more than 15000 lessons and videos. It enables educators to transform traditional lessons into interactive multimedia experiences, making learning more engaging and effective.
How does Nearpod work?
Nearpod works by allowing teachers to create and deliver interactive lessons to their students. Teachers can either create their own lessons from scratch or use pre-made lessons from Nearpod's library.
Once a lesson has been created, teachers can add a variety of interactive activities to it, such as quizzes, polls, open-ended questions, draw-it activities, and collaboration boards.
To deliver a lesson, teachers simply share a join code with their students. Students can then join the lesson using a web browser or the Nearpod app.
Once students have joined the lesson, they can follow along with the teacher's presentation and participate in the interactive activities. Teachers can see how students are performing on the activities in real-time and provide feedback accordingly.
Nearpod also offers a variety of features to help teachers differentiate instruction and support all learners. For example, teachers can provide students with different levels of difficulty for interactive activities. They can also use Nearpod's collaboration features to allow students to work together on activities.
Here is a step-by-step overview of how Nearpod works:
Teachers can create a Nearpod lesson by adding different slides, content, and interactive activities.
Teachers share a join code with their students for joining lessons.
Students can join the lesson by using the join code in a web browser or the Nearpod app.
Teachers deliver the lesson for learning purposes and then students participate in the interactive activities with the full use of mind to solve the lessons.
Teachers can see, how students are performing on the activities in real-time and provide feedback accordingly to the student's activities.
Nearpod is a versatile and powerful tool that can be used to create engaging and effective lessons for students of all ages and abilities.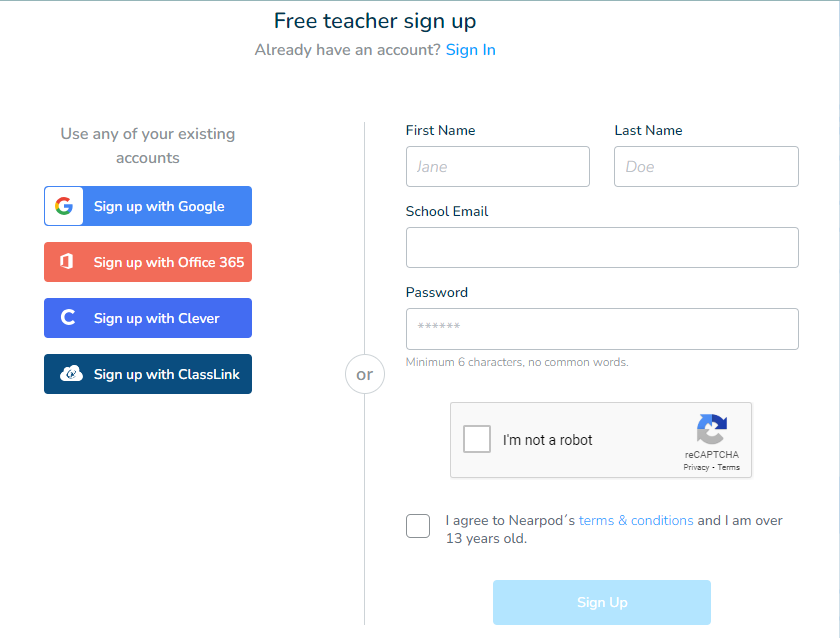 How to Join Nearpod:
For nearpod.com join, students can either use a web browser or download the Nearpod app.
To www.nearpod.join, you can follow these simple and easy steps:
To Visit the main Nearpod website click on this link nearpod.com.
Click on the Sign-Up or Join Now button.
You can sign up using your Google or Microsoft account, or you can create a standalone Nearpod account.
Follow the registration prompts, providing the required information.
Once registered, you can start using Nearpod to create and deliver interactive lessons.
Once your account is created, You can join lessons using the join code provided by your teacher.
What is nearpod login?
Nearpod join is a page where students type 5-letter codes to join the live session. Nearpod login is a page where teachers login into their Nearpod account, where can create, launch, and manage live sessions.
Nearpod login
To log in to Nearpod, Follow these steps.:
Using your school credentials: If your school has enabled Nearpod for students, you can log in to nearpod by using your school email address and password.
Follow these simple steps for nearpod login using your school credentials:
Go to the main website and click the login option. You can use this link nearpod.com/login.
Enter your school email address and password.
Click on the "Log In" button.
Join my Nearpod
If any student is trying to join a Nearpod lesson but if you not have a join code, they can ask their teacher to send them a link to the lesson. The link will open the Nearpod lesson in a web browser.
Joining a Nearpod Lesson:
If you're a student looking to join at join.nearpod.com lesson, your teacher will provide you with a unique join code or link to access the lesson. You need to join.nearpod.code for joining. You can typically join by going to join nearpod.com and entering the provided 5-letter join code or following the link. In other way, students do not need an account to join nearpod com. They can join lessons directly through the join code provided by their teachers.
Students can follow these easy steps for joining a Nearpod lesson:
First, open the Nearpod app or join.nearpod.com website.
If you have a join code, enter the code into the join field.
Click on the Join button.
Nearpod join code
The Nearpod join code is a unique 5-letter CODE that is generated for each lesson. Students can join the lessons by entering the join code into the Nearpod app or website for join the lesson.

Join.nearpod.com code
The join.nearpod.com code is a general join code that students can use to join any Nearpod lesson. However, this code should only be used if the student does not have a join code from their teacher.
Benefits of Nearpod:
Engaging Content: Nearpod allows educators to create important informational lessons with multimedia content, which includes videos, puzzles, quizzes, polls, and virtual reality experiences. These lessons keep students engaged and motivated to learn.
Improved learning outcomes: Nearpode tracks or gives real-time feedback and collaboration features that help students learn more effectively.
Real-time Assessment: Teachers can gauge student understanding in real-time through quizzes and polls, enabling immediate feedback and adjustment of lesson plans.
Differentiation: Nearpod allows teachers to differentiate instruction to meet the needs of all students.
Remote Learning: Nearpod supports both in-person and remote learning, making it versatile for various teaching scenarios.
Ease of use: Nearpod is easy to use and user-friendly for both teachers and students.
Data Analytics: Nearpod provides teachers with important data on student performance, helping them identify areas of improvement and customize instruction accordingly.
Integration: Nearpod seamlessly integrates with popular learning management systems (LMS) and other educational tools, streamlining the teaching process.
Pros and Cons of Nearpod
Pros:
Interactive and engaging lessons
Great online earning platform.
Real-time feedback and assessment
Collaboration features
Large Content Library, and videos.
Differentiation capabilities
Easy to navigate this platform
Cons:
The free version has limited features
Some features can be slow or buggy
Requires an internet connection
Storage space for free users.
Overall, Nearpod is a powerful and effective interactive presentation platform that can help teachers create engaging and effective lessons for their students.
Learn more about Nearpod Review.